After two years of plowing through an era of cabin fever during an endless pandemic without recreational travel, I was carefully assessing potential vacation destinations abroad for the 2021 Christmas holiday season, with a premium on escaping the snowy Wisconsin winter wonderland made that much colder by social distancing. I had enough miles in my account to fly to any corner of the world and I badly needed to leave the United States and the office for a bit. I also had a set plan to visit India in fall 2022, so that was off the list. I was in search of some general relaxation, beach time, decadent food, a climate friendly to shorts, sandals and tank tops, a place that would be safe for traveling as COVID-19 rages in many countries, while also learning new advances in environmental sustainability for my career priorities.
My mother had an idea. One particular country has all of the above and much more in spades: the United Arab Emirates. Interestingly I had visited the nation made up of 7 Emirates for the winter holiday of 1987/88 as a kid, had an amazing time then, and have been reading and hearing about the blistering pace of urban development and engineering the country has become famous for ever since then. I had grown up in the Gulf for four years and had never been back since 1991. I also had an ace in the hole: my uncle, aunt, and cousin are settled in the UAE, so I would get to spend quality time with relatives, who would provide hospitality, first-rate home cooking, advice on where to go, and also give me company along the adventures in Arab desert lands. Fortunately, my cousin was free at the time to join me for the long wandering sessions when my aunt and uncle, both busy physicians, had to be at work.
ABU DHABI
I landed in Abu Dhabi airport after a long journey via Munich Airport and was welcomed by a perfect 70 degree night, my uncle and my cousin. The first thing that is worth mentioning is the fantastic COVID-19 protocols that the UAE has put in place- a stark contrast to how the United States has sadly bungled just about every aspect of the pandemic. During my weeks in Abu Dhabi and Dubai, I felt far safer than I ever have back home, which is incredibly sad to me. Hundreds of thousands of American lives could have been saved. Sure, the protocols were onerous, but that's a price I'm willing to pay all day, every day for public health and the resulting obvious benefits to the economy. We got this wrong and we were stuck having neither. I'm also well aware that the gulf state is an authoritarian monarchy, like most of its neighbors, and that the residents and visitors do not have many of the same freedoms as Western democracies. I'd make the strong argument that when it comes to collective safety, too much freedom will cost lives as we are still seeing every day. For example, I was all-in on the near 100% vaccination rate- mandated by the government by fiat for all residents and visitors and backed by the advice of public health experts.
Before leaving the United States, I absolutely had to get a negative PCR test within 48 hours of my first flight out of the country. Happily I got the result I hoped for and could fly. Additionally, all tourists are required to download the Al Hosn app on your phone- which tracked all of my vaccination doses and test results in one place. I had to upload my vaccination and booster documents, along with testing data, which I was glad to do. If everyone had to do it to arrive, all of us could feel safer! What's wrong with that? Then upon landing in Abu Dhabi I immediately needed to get another free COVID-19 PCR test administered and tracked by the government. I was worried this step would delay seeing my relatives waiting for me just outside. Amazingly, the test was done in just 5 minutes with many dozens of testing kiosks and highly professional nurses at the ready for every arrival at this busy international airport, more than able to quickly handle the rush. I got my negative result the next morning on my phone app. My passport and Al Hosn app information were tracked. Yes, this is a surveillance state tactic, but I had no issue whatsoever with the government knowing my health status for the common good. The app also reminded me that I would need to get another free PCR test on Day 6 of my stay. Since I would be in town for several weeks, that would be necessary.
Just as amazing as the ruthless efficiency of the airport testing and subsequent testing, very few in the bustling city of Abu Dhabi above the age of 7 dares walk out of their front door without a mask on. This is a shocking sight for an American visitor. The universal compliance of the directive seems almost comical and alien, until you learn that hefty fines are given to violators, even outdoors in the fresh air, and in this place cameras are everywhere and most police enforcement is handled through this high-tech camera technology. As an enthusiastic mask-wearer for almost two years, I had no issue with any of this. Plus, I wasn't going to steal anything or hurt anyone, the other reasons why visitors might want to fear enforcement.
My vacation started off with a thrilling bang, as my cousin and I went on a desert safari far outside the city. This consisted of renting an ATV for a while and speeding across the sand dunes and trying like hell not to fall off. After that we got a ride in an SUV with an aggressive driver who took us on a roller coaster ride up and down giant sand dunes in an experience that will shove your heart in and out of your throat. Towards the end we got to take photos of the endless desert at sunset. This experience is a must for any visitor with a decent heart.
The skyline of Abu Dhabi is nothing short of a decadent treat, with numerous islands, bays and beaches as the backdrop. The architecture of many brand-new skyscrapers is a breathtaking sight to behold. None of these had even existed during my last arrival in 1987. Newness is everywhere. World class 5 star resorts and hotels along crystal blue waters and palm trees beckon to visitors and locals alike. My relatives were planning with their posse of 30 fun-loving Konkani friends a New Year's Eve party at a beach resort tent campsite, and I was appointed to be the bartender for the occasion thanks to my professional experience. More on this later.
There was too much to do (and eat) in Abu Dhabi, but I was able to scrape the surface. I can only share some of the must-see destinations of my trip for a semblance of justice. All guests of any faith are welcome to tour the Sheikh Zayed Grand Mosque, an opulent multi-billion dollar architectural marvel that is easily in the conversation for the world's most beautiful religious complex, and one of the legacies of the late Sheikh. Seeing this place is believing and I don't like to use so many superlatives, but we are given no choice. My guided tour with my cousin was an endless array of stunning features, including some of the world's largest and most ornate domes and chandeliers. Opened in 2007, this complex is a great kick-off to what Abu Dhabi has to offer. It is like a modern-day Taj Mahal. Just remember to show your app with a green pass to security guards, as for all places you plan to visit during the pandemic. A red light means you aren't vaccinated or tested, and you won't get in anywhere.
Culture abounds in this place. That same day we visited the Abu Dhabi Louvre, the partner museum to the original in Paris with a local Middle Eastern architectural flair featuring a widely curated collection of art, sculpture, and artifacts dating back many centuries to the present from area artists and those from around the world. We easily spent several hours wandering the halls of this museum, with excellent signage and educational information. This too was founded just recently, in 2007. Much of the development I was seeing now happened in the 21st century, a theme that I continued to see, and something that separates Abu Dhabi and Dubai from most grand metropolises. It's an unending marvel how much has sprung up in Abu Dhabi compared to my previous visit.
There are dozens of other palaces, mosques, skyscrapers, and government buildings to explore in Abu Dhabi. I was able to tour the massive Abu Dhabi Emirates Palace Hotel, a scrumptiously luxurious property and playground for the wealthy that oozes decadence out of every pore abutting the crystal clear Gulf. A group of us had dinner inside at the well-appointed Indian restaurant in a surprise party for my uncle, who had just gotten a promotion. Yes, I was able to keep the secret and I couldn't think of a better venue for it. And, for those of you who need it for walkabout funds: the lobby features a GOLD VENDING MACHINE.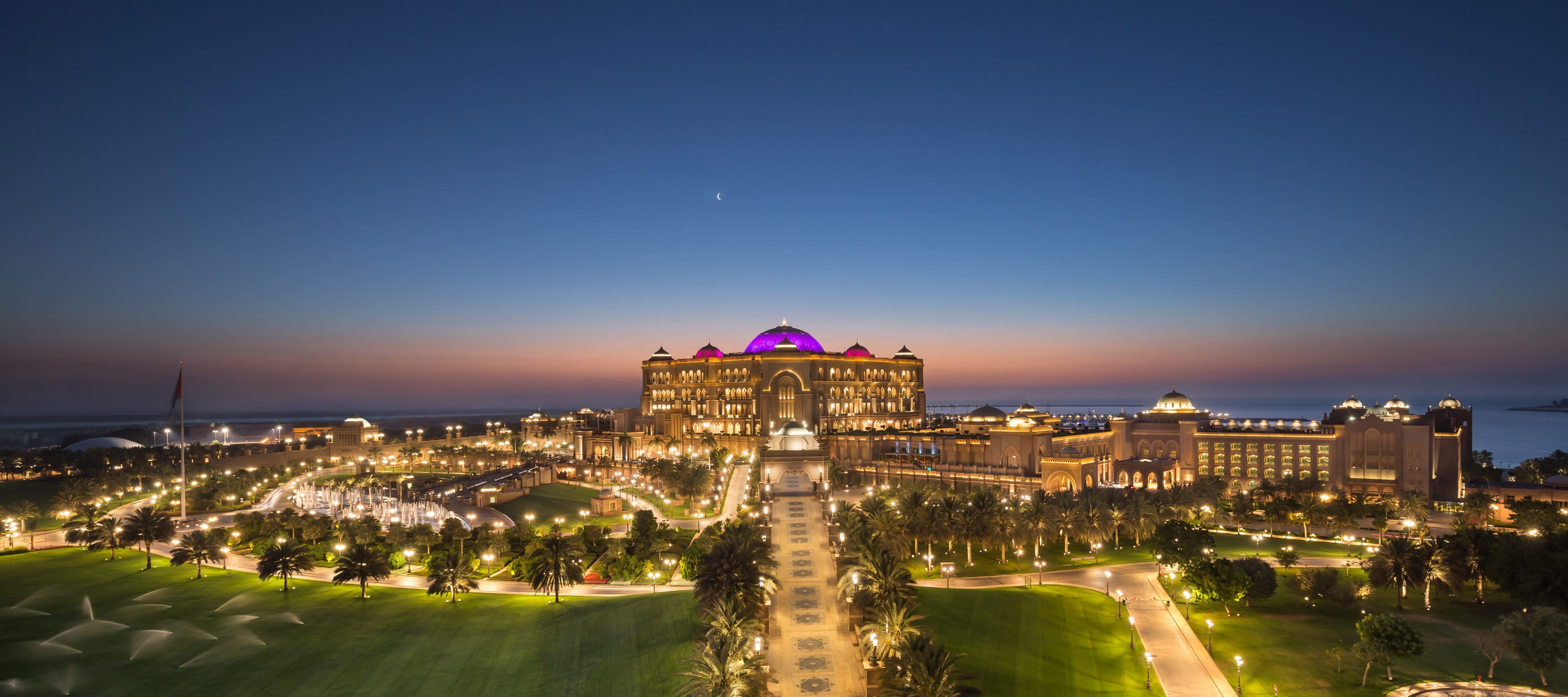 Next door in this new part of town is a government business facility a bit fancier than the average, Qasr Al Watan royal palace that welcomes foreign dignitaries from around the world and is part of the massive complex of royal palaces where the Emirati royals and their staff live and work- as Abu Dhabi is the capital Emirate among the 7, and the base for all government power and administration. Public tours are given to tourists who are curious about what a visiting emissary might see on their way to meetings or state dinners. The palace is yet another opulent treat for all comers. I wouldn't mind holding a meeting or two there, let's put it that way.
However, with my proclivity toward battling climate change as the driving force of my career, I was far more excited to visit Masdar City, a new globally consequential sustainable development project underway on the outskirts of Abu Dhabi. Visiting Masdar, a city being built from scratch from the ground up, was one of the reasons why I decided to visit the UAE on this trip in the first place. Like all of the other destinations on my itinerary, it was another multibillion dollar effort. And it did not disappoint.
Imagine a City where the first principle is building a utopia of environmentally sustainable living and research. Where driverless electric shuttles and EV taxis move people around the offices and residences, a major research university, technology hubs and incubators with talent from around the world. Where artificial intelligence, solar power and wind power projects were front and center. This is my kind of place. Immense construction is under way and there are many years of building to go, but the skeleton of the new city comes into view for visitors. I was amazed at the size and scale of this development project, beyond the focus on flouting wealth the rest of Abu Dhabi strives for. Here was a practical application of the Emirate's significant oil and gas money which will help advance the state of the art for green technologies and will be part of, one day, the post fossil fuel future that all of us should be cheering for. Masdar City is an impressive project and I hope it continues to be successful in the years ahead in fulfilling its mission, not just for the UAE but for all of humanity.
If you know me I've been known to enjoy New Year's Eve parties, a chance to ring in another new year with friends and family at a time when we hope the pandemic recedes into the past for all the world. As soon as I arrived plans were under way for a group of tight-knit Konkani families affiliated with my aunt and uncle to make a "glamping" potluck feast and dance party at an island beach resort, featuring sections of tents and bbq grills right on the crystal clear beach, to range from New Year's Eve afternoon into the wee hours of the new year. Several nights before my uncle and I sampled a range of cocktails that I could make. We ended up settling on some of my favorites from my wild bartending days in New York City's Mirchi restaurant in 2001 and 2002: "sassy lassis" or mango lassi cut with vanilla vodka and banana liquer; chocolate martinis made with vanilla vodka and chocolate liquer; passion fruit mojitos; melon balls; and whatever else my fellow guests requested. I also made a Thai eggplant peanut sauce pasta dish as my contribution to the potluck feast. What ensued on the afternoon of New Year's Eve was an unforgettable experience. And, of course, all guests needed a negative PCR test from the day before to enter the resort. This was already my fourth test in a short period of time. I was feeling very healthy at the time. Fortunately, all our partygoers received their negative results in time to celebrate.
After setting up the camp as the party people arrived one by one, a swim in the ocean, some sunbathing, and some tea and snacks, the men and boys decamped for an intense game of beach volleyball with the highly skilled resort staff- a tiring, intense, and fun activity where nobody kept score but focused more having a good time- that brought us into nightfall. And that is when the party went to the next level.
I organized and opened the bar in an effort to make my fellow Americans proud in this foreign land, while several grills began working and the fantastic potluck food items were opened for business. If you know Konkani chefs, then you know we are the very best in the world. A plethora of fresh skewered meats and seafood were expertly grilled over the next hours to accompany delicious Indian and Arab food, my cocktails flowed, the music was blared, and the whole thing degraded into a dance and karaoke party for 3 generations of family and friends for many hours. This was my first new years' with my uncle and aunt and a great bonding experience in the Middle East. To cap it off, around midnight literally the largest fireworks and drone display in world history in volume, duration, and form was witnessed by us. Those of us who were there will also never forget the torrential downpour on the island in the wee hours of 2022.
DUBAI
Dubai is more well-known and more of a destination to world travelers, and rightly so. It is a more open Emirate/City, with more expat residents and tourists, a more cosmopolitan and liberal culture than its sibling Abu Dhabi, a more vibrant nightlife, endless amounts of delicious food from around the world, and the world's tallest building the Burj Al-Khalifa and the world's tallest ferris wheel, the Ain Dubai. It is a shopping paradise too, though that part doesn't concern me. There is simply no other place like Dubai. I made several side visits to Dubai from Abu Dhabi next door, one of them lasting four days with my cousin in order to savor the giant metropolis with easily the world's best skyline, and also attend the awesome Dubai World Expo, another key reason for my UAE trip. We spent two days at this amazing event, with a healthy focus on sustainability and mobility, and I could have easily spent a few more days wandering all the pavilions from around the world and the host country. If you'd like to get there- hurry, as it ends at the end of March 2022! And if you do, I'd highly recommend many pavilions including Israel, Brazil, Sweden, United States, Saudi Arabia, Mexico, India, Finland, South Korea, Malaysia, Dubai Electric & Water Utility, Sustainability, and the fantastic African food court. Japan was unfortunately closed due to COVID-19 but is widely considered the best of all the pavilions. Learn so much about what is going on in the world especially when it comes to technology, tourism, and culture. It's the next best thing to visiting these places. Witness Brazilian dancers, marching bands, art installations, robots everywhere providing information, security, or food deliver- and tasty bites from every part of the world. It was pretty hot out there considering that December is a cool month in the UAE- I could only imagine what the blistering summer months are like. To be avoided for sure.
We stayed in the Dubai Marina district, which is where a lot of the action is day and night. Beaches, shopping, restaurants, cafes, nightclubs and awe-inspiring skyscrapers all abound in this area within walking distance. But the traffic is so bad, it's highly recommended that you get around this area exclusively by foot- and walk off all the rich food on offer. Commensurate with a wealthy area of a global city, the prices are not cheap, as it's very much a playground for the ultra-wealthy. It lives up to the reputation. Lamborghinis, Ferraris, Maybachs, and Rolls Royces abound. Even cop cars in this town are Bugatis and Ferraris. In Dubai if you drive a Mercedes, Jaguar, Tesla or Land Rover you are pretty much slumming it and the local police cars will easily out-muscle you.
Old Dubai is full of ancient souks selling clothing, gold in shops that go on and on, trinkets, spices in huge piles, and all kinds of household wares as they have been doing in Middle Eastern markets for many centuries. Some of the hawkers are aggressive like I have seen in other tourist destinations. Wandering through these souks is a must and a bit of a dose of local culture separated from the newer and more modern parts of the city. You can also take boat rides through the rivers and canals of the district. It's also a place where you can easily drop all of your dough if you aren't careful.
Book a night-time dinner cruise beneath the stars and through the City's central canal that will slowly float close by the colorfully lit, best skyline in the entire world. The views are something I can't even describe to you if I tried. As a former New Yorker, I don't say this lightly. The skyline quite simply dwarfs any competition when it comes to the beauty of the architecture, all of it newly built in the last few decades in a show of aggressive and classy development unrivaled anywhere except maybe for parts of China. To top it all, get treated to a mind-blowing drone show that colorfully coordinates thousands of drones in a feast for the eyes.
An even better way to experience this skyline by night is the newly built Ain Dubai. This ferris wheel is a huge white skyscraper in itself, at 250m tall. The slow ride is worth every minute, as you can see the skyline's many contours leisurely and soak in the atmosphere. In my case this was a great warmup for the views afforded by the even more spectacular Burj Al-Khalifa, the tallest building in the world. When you are on top of the world like this and look down, the skyscrapers around it look like little building blocks. After your trip to the top, enjoy the lighted fountain show downstairs and out front right at dusk in the surrounding complex, if you can time it right. There was a holiday market going on there at the time I visited and this time of year is definitely recommended for the pleasant weather.
Just as with Abu Dhabi, these were just some of the highlights being shared in the interest of brevity. I think you get the idea. And now I'll venture into the realm of a little editorial for you to contemplate, for all is not perfect in the UAE just as no country is perfect.
The remarkable amount of development seen in the UAE has a darker side. The ostentatious display of wealth isn't my favorite part, and it also comes at a steep cost. Most of the menial jobs, including the blistering pace of construction work, is done by third-world nationals from places such as India, Yemen, Pakistan, Bangladesh, and the Philippines. In a country of 10 million people, 9 million of them are expats. 3 million are Indian. And expats in these menial roles often work and live in deplorable conditions to keep the machine running. This is sadly a supply and demand issue, as there is no work to be found in the poor nations these people are sourced from, and they could easily be replaced if, say, Prime Minister Narendra Modi made demands about worker rights. This reminds me of the way US farms and slaughterhouses treat illegal immigrants from Latin American countries, so it could be argued that Americans are not much better at this.
The UAE is also authoritarian, largely funded by oil and gas deposits in the deserts of Abu Dhabi and in the Gulf waters. Of course, Abu Dhabi also houses a US military airbase and the two facts are entirely related. The nations coordinate closely on national security, which actually was helpful in thwarting several recent attacks on the UAE by Houthi rebel groups based in Yemen as revenge for the UAE participating in the war in Yemen with its ally Saudi Arabia. US detection systems helped defeat the missile attacks aimed for Abu Dhabi. However, if the UAE at this dangerous moment follows its stated goals of fostering peace in the region, while continuing to steer its economy away from fossil fuels for the future, it can continue its trajectory of prosperity for a long time to come.
The UAE is also not the only oil-funded monarchy in the region and therefore its current system in place since independence in 1971 is not unique. There are many others and together they form the backbone of OPEC, which dictates global oil supply through production and prices. However, the UAE has been for decades among the most liberal of these, with religion playing a smaller role in its governance and culture, which is a positive. That has helped fuel its new prosperity, with its openness to the rest of the world as evidenced by the development of Masdar City or Dubai World Expo with heavy foreign partnerships. As far as these gulf monarchies go, the UAE can be a model and a leader among this group for keeping up with modern times.
It is important to note that as long as the rest of the world is willing to buy the energy resources of the Middle East, that these government systems will remain firmly in power. It's my hope that they will do so as part of the community of nations for a long time to come. And overall, I would highly recommend everyone else to visit the Emirates and experience it for yourself, whether for work or pleasure.